I am a Licensed Clinical Social Worker (#084919), and have a broad range of experience working with adults and families. I received my MSW from Syracuse University's School of Social Work, with a concentration in Family Mental Health. My Bachelors is in Human Development, from Empire State College. My clinical specializations are in the areas of: anxiety, trauma, phobias, grief/loss, relational issues, and parenting challenges. Sharing my knowledge and skills is also a passion of mine.
I am a master-certified practitioner of Accelerated Resolution Therapy (ART). ART is best suited for adults and older children. I have used ART with over 200 people, and was trained in 2015, by Laney Rosenzweig, the founder of ART. My own personal experience with ART is that during my initial training practicum, I received help in overcoming a phobia I had struggled with all my life; eight years later in 2023, I still feel confident in my ability to handle a "triggering" situation when it arises.

Though I don't currently work with children anymore, I am available for consultation or supervision to other mental health professionals/students or if you are looking to become a Registered Play Therapist. I have over 200 hours in play therapy-specific training - including 30 hours in the area of supervision for play therapists. My required coursework was completed at Western Connecticut State University, under the instruction of Dr. Gabriel Lomas and Dr. Athena Drewes. Specific models of play therapy that I am trained in and have used include child-centered play therapy (CCPT), sand tray therapy, cognitive-based play therapy, and integrative play therapy (where I combine two or more models). I am also certified at the foundational level in Theraplay.
I feel really lucky to live in a place that I love, and do work that I find so rewarding! A few times I did venture away from Ithaca, but then always came back; altogether I've lived here over 40 years. Near me is so much natural beauty, it truly feeds my soul.
Adventure, creativity, music, and a sense of community are probably the most important things in my life – in addition to helping people be the very best they can be through my work. In my "former life" I've been a pie baker, day care provider, teacher of English as a Second Language, school social worker, and program director/coordinator. I'm also a mom to two amazing grown sons!
When I am not working, you can often find me at home snuggled with my cat, sewing, working in my garden, or playing the piano.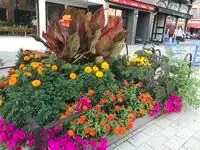 Ithaca Commons in full bloom